Sony Entertainment (SNE) has been going from strength to strength over the past two years. Much of this surging growth and more than doubling of the stock price is driven by its gaming strength. Gaming is going through a huge secular growth surge worldwide.
It is also seeing a transformation to the cloud from console-based gaming. Sony is well placed to take advantage of this over the coming years. Pure gaming stocks should do well too. They don't though have Sony's advantage of diversification, synergies and alternative profit centres.
I always like to follow companies in secular growth sectors with strong management. Sony ticks those boxes.
The Gaming Arena
A recent report by Newzoo emphasises the switch to mobile from console device-based gaming. The current breakdown is illustrated below: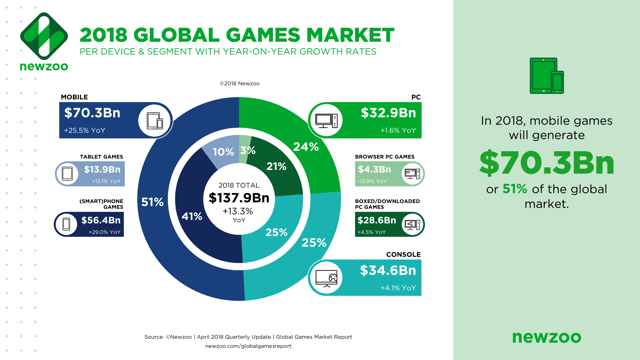 newzoo
The report forecast global spending on gaming will hit US$137.9 billion this year. That would be up 13.3% on last year. Mobile revenue this year should rise 25.5%. A recent report by Baird had slightly different figures. They predict gaming revenue to hit US$145 billion by 2020, from the lower current figures they calculated. The trend was the same though.
Newzoo forecasts global gaming to hit US$180.1 billion by 2021. That would represent a CAGR of 10.3%. The growth the industry has enjoyed is exemplified by the fact that gaming revenue was only US$70.6 billion in 2012.
The trend to mobile might seem to be a disadvantage to Sony as their PS4 dominates the console space. However, one can draw 3 positive conclusions for Sony:
* Console gaming is still forecast to show CAGR growth of 4.1% up to 2021.
* Their home market of Japan is the 3rd largest gaming market (behind China and USA) and with the highest spend per player.
*Most importantly, Sony is making great strides in their mobile offering. It looks like a smooth transition from console to mobile gaming for them. Digital game sales are a high margin business for the company so profitability should increase. At the same time, console sales continue to be strong. The company had sold a total of 79 million PS4 consoles by the end of the 2017 fiscal year. For the 2018 fiscal year, they forecast to sell a further 16 million. Historically, Sony's forecasts have been conservative.
As my recent article detailed, cloud gaming is at the forefront of the company's "Corporate Strategy 2018-20" programme.
In this document, the company emphasised the breadth of its PS offerings.
* "PS Network" allows subscribers to play other gamers. It has over 80 million active monthly users.
* "PS Plus" subscription-based service. This is a premium service which is growing fast amongst PS4 users. It is a high-margin business.
* "PSVR" for the growing virtual reality market. Opinions remain divided as to the long-term potential of virtual reality. However, whichever way growth goes, Sony is likely to remain a dominant player in the VR space.
* "PS Now," their cloud gaming service. This now has over 650 games. It is speculated that games could soon be offered for offline play.
* "PS Vue" and "PS Video" video services. These show particular promise at a time when "cord-cutting" customers are turning away from cable TV.
*"PS Music" which links the music division of what is the world's largest music publisher into the gaming sphere. This division accrued a stunning US$2 billion revenue stream in the last fiscal year mainly from its mobile app "Fate/Grand Order." Music offerings have been strengthened greatly also by the company's partnership with Spotify (SPOT).
The company also stated it is targeting growth in its IP anime ecosystem. Anime is of course a huge business in Japan and growing elsewhere, especially in Asia.
These services somewhat mirror Apple (AAPL). For both companies high profitability from fast-growing services is gaining importance over hardware sales.
Mobile gaming will grow strongly but take some time. The move to the cloud and faster Internet connections will drive the growth as we see graphic capability migration on the cloud. Latency issues mean this will not happen that rapidly. It can take time between a client request and a cloud service provider's response. This will lead to a more gradual but smoother transition from consoles to the cloud.
Gaming Companies.
The top 25 gaming companies in the world as defined by Newzoo are shown below: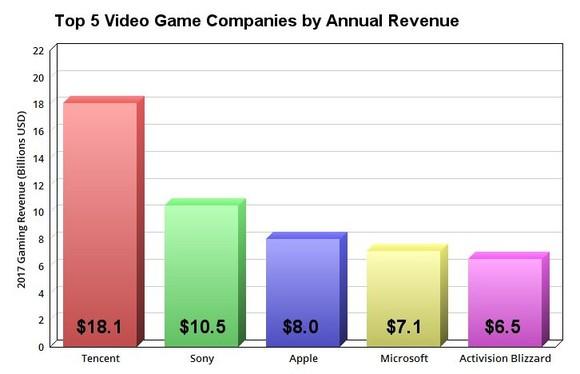 Newzoo
Tencent (OTCPK:TCEHY) is a company not much covered by U.S. analysts but with tremendous reach in China, the world's largest gaming market. They offer a strong long-term bull argument in my opinion, but that is somewhat outside the scope of this article. Sony, Apple and Microsoft (MSFT) are of course not pure gaming plays.
The Big Three purely gaming companies in recent years in terms of growth and turnover have been well-covered. Their rise has been so strong that valuations have become stretched.
According to figures from Charles Schwab (subscription required) these show:
* EA (EA).
P/E = 35.11.
Forward PE = 28.63.
PEG = 2.59.
—————-
*Activision Blizzard (ATVI).
P/E = 59.99.
Forward PE = 29.46.
PEG = 3.68.
—————–
*Take-Two Interactive (TTWO).
P/E = 71.83.
Forward PE = 26.34.
PEG = 2.63.
——————
Contrast these with Sony:
P/E = 14.40.
Forward PE = 13.29.
PEG = 2.88.
Sony also has a strong and growing partnership with Take-Two Interactive.
It should be noted that Nintendo (OTCPK:NTDOY) has recently undergone a revival. This follows the successful launch of its "Switch" last year. This company has had a lot of ups and downs in recent years and has high valuations for what is quite a high risk stock.
As Sony is not a pure gaming play, one could make a comparison with another company in the gaming arena but with much else besides.
*Microsoft.
P/E = 28.28.
Forward P/E = 26.55.
PEG = 2.30.
Whichever way you look at it, Sony wins hands down as a valuation play.
The synergistic nature of Sony's product offering is illustrated by the 2017 revenue figures as below: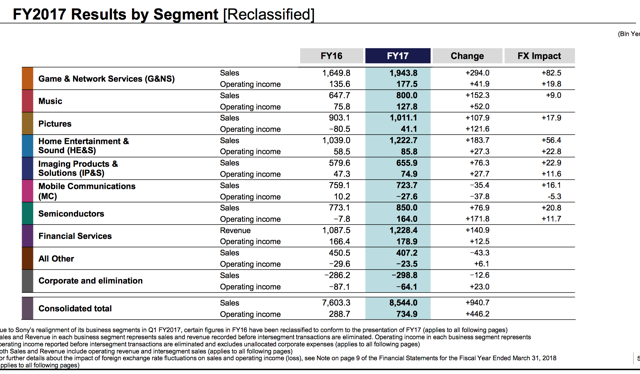 Sony
If the Newzoo forecast of a 10.3% CAGR in this area between 2017 and 2021 is correct then the following would apply:
*Game & Network Services revenue would increase from US$17.6 billion to US$26.1 billion.
*Game & Network Services operating income would increase from US$1.61 billion to US$2.4 billion (current total company net income was US$6.67 billion in fiscal year 2017).
In fact it can be expected that operating income would exceed this as a switch to mobile will produce higher profitability than consoles and physical games.
Revenues as a proportion of the total covering what might be termed as the mobile youth market look as follows:
* Gaming = 22.7%.
*Music = 9.3%
* Pictures = 11.8%.
Mobile Communications = 8.4%.
So a total of just over half the company's revenues are derived from this. It is backed up by substantial profitability from the Imaging, Semiconductor and Financial Services divisions. Imaging and Financial Services in particular give Sony very stable and reliable profit centres.
New areas of promise from Sony include wearable tech, robots and drones. These will feed into the mobile narrative. Sometimes under-estimated is the stream of excellent new hardware products for the mobile life-style. One example of this are the new wireless sports earphones. The Sony WI-SP600N have received excellent reviews for instance. Sony's rivals do not have this complementary advantage.
Sony's Gaming Progress.
A recent report from NPD Group reinforced the growth story. In the first 5 months of the year industry wide video game sales increased 13% and hardware increased 15%. The console model is by no means dead yet. E-sports is likely increasingly to be a growth driver. Sony is well-placed here and has moved increasingly into the sports arena as shown for instance in its major sponsorship deals with FIFA. E-sports were slow to take off in Japan but look likely to rise strongly this year and next, to Sony's benefit.
Strikingly for Sony, the NPD report showed they were No. 2 and No. 3 in game sales with "God of War 2018" and "Detroit:Become Human" respectively.
At the recent E3 conference (Electronic Entertainment Expo) Sony was seen to have a very successful show. The offerings from Microsoft and Nintendo in general disappointed.
Sony had successful previews of outside developers' games for PS4. Perhaps more importantly there was very positive response to a slew of in-house exclusive games that Sony previewed. An essential part of the corporate strategic plan is to strengthen first-party titles and at the same time maintain their strong relationship with 3rd party software makers.
The company did however come in for some criticism for refusing to allow PS4 subscribers to the popular "Fortnite" game to move to playing on the Nintendo "Switch" or Microsoft "Xbox". It is possible to move to Mac, IOS and Android platforms from PS4. "Fortnite" is estimated to have 125 million players. Sony may need to be cautious about alienating the gaming community.
One game getting particular attention was "Marvel's Spider-Man". This emphasised additionally the strong tie-up Sony has between its PS4 division and its Pictures division. Those who have thought Sony should sell their movie business fail to understand the key synergies this actually gives the company.
Despite the move from console based gaming to mobile gaming, it is known that Sony is working on PS5. This may well be launched at E3 2019 for release in early 2020. Microsoft is also known to be working on an updated version of the Xbox. So console gaming is not going to be going away anytime soon. It is of course not known how cross-operational a PS5 will be with PS4 games. It is likely however that it will cause an upsurge in revenue when released.
As my article in April pointed out, Sony has an unmatched and integrated Internet of Things offering. This comprises its PS4 division, its Pictures division, its Music division and its Mobile Phone division.
The synergies apply to the Mobile Phone division in the same way they apply to the Pictures division. Those analysts who speculated that Sony would drop its Xperia mobile phone business fail to appreciate this synergy. In the last few years big-time investor Daniel Loeb has been pressing for a break-up of Sony including off-loading mobile. The stock price and results since have shown how wrong he was. Stock holders will be happy that Sony management ignored his calls.
In fact, the synergies should increase as the company looks to focus on 5G technology across all areas of the company. As CEO Kenichiro Yoshida said at the last results briefing:
"Sony Group wireless technology… is a technology which we view as having immense potential since it connects all portable devices in the cloud…. By continuing to work on our smartphone business, we are aiming to develop 5G technology as a core competency that can be used across the entire Sony Corporation."
This is part of the appeal to the youth market that no other company can match. It is backed up by its market-dominating Image Sensor and Semiconductor divisions, which pack the hardware into many of the devices. The recent near-collapse of bricks and mortar games retailer GameStop Corp (GME) is an illustration of this trend.
The Newzoo report predicted that the gaming market would have a 10.3% CAGR from 2017 to 2021. If this is accurate and Sony match the trend (I would expect them to exceed it) then the effect on Sony's bottom-line will be very positive.
Sales for the Gaming & Network Service division were equivalent US$17.66 billion in fiscal year 2017. This would rise to US$26.1 billion in fiscal year 2021. Operating income was US$1.61 billion in 2017. This would rise to US$2.48 billion in 2021. In fact operating income would likely grow more than sales as the increasingly mobile model should be more profitable.
The biggest cloud on the horizon may be a generalised one. The Trump Administration's protectionist and trade war policies are a danger to all stocks and all businesses. Sony's geographical spread in terms of employees (and therefore manufacturing) is shown in the illustration below: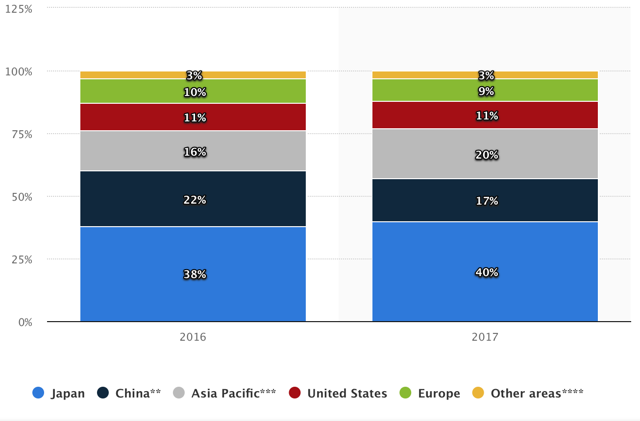 Statista
Revenue is accrued very widely across the globe, but 77% of its employees are in Asia. Sony would not seem to be a direct target of Trump's protectionism. The company could well be collateral damage though, along with just about everyone else.
Conclusion.
Sony's synergies are everywhere in the gaming and mobile arena. Their current position as a Digital Entertainment Hub and that sector's growth prospects are unmatched. They are well placed to manage the gradual transition from console-based gaming to mobile gaming. This trend should in fact increase profitability for the company. Sony has very low valuation metrics for what is a growth company. Yet it carries lower risk than its competitors due to its wide spread of risk.
Disclosure: I am/we are long AAPL, TTWO.
I wrote this article myself, and it expresses my own opinions. I am not receiving compensation for it (other than from Seeking Alpha). I have no business relationship with any company whose stock is mentioned in this article.
Source link