It's all about scale in the automotive supplier market. In a pond full of big fish and highly demanding automotive manufacturers, maintaining a competitive edge in the form of lower production cost is key. Frequently, the path of least resistance towards that goal is industry consolidation. Dana Incorporated (DAN) has been playing this game for years but is now set to take on its biggest target yet: a merger with fellow driveline peer GKN Driveline (OTCPK:GKNLY). Dana recently had to up its offer for the automotive business as Melrose Industries continues to press a hostile takeover attempt. In my opinion, Dana wins out in the end as it has the support of the Board of Directors. Multiple bidder competition points to significant value here, but Dana has the balance sheet and the potential synergies to see that deal through to the end. Folding GKN Driveline into current operations, once it hopefully occurs, is a prime catalyst for shares in 2018.
Market Review, Laying The Framework Of The Bid
Dana manufactures and provides high end driveline products such as axles, driveshafts, and planetary hub gears. Products offered are extensive; the company a near single source provider of products between the transmission and the wheels across a variety of vehicle platforms. Nearly every single major OE producer, whether that be Ford (NYSE:F) or Nissan (OTCPK:NSANY) or Deere (NYSE:DE), sources some or all of its driveline needs through Dana. With that said, I do think investors have a tendency to overstate Dana's dominance in the space. Driveline products are fairly commoditized products at this point, so the parties left standing are there because of scale and lean manufacturing. Another sign pointing to this is the lack of investment: research and development costs often run less than 2% of revenue. So, while barriers to entry are rather high given the cost of equipment and the value of established relationships, there are strong global competitors: BorgWarner (NYSE:BWA), American Axle (NYSE:AXL), Meritor (NYSE:MTOR), ZF Friedrichshafen, and even the OEs themselves all stand ready to jump on any subsection of the market that is generating sizeable returns. In businesses like these, only those that are incredibly well run can even hope to see their EBITDA margin grow into the low teens; high single digit margins are far more likely.
Driving efficiency improvements on the manufacturing line, squeezing lower costs out of raw material suppliers, and driving leverage off of the fixed cost base both within the factory line and in the corporate office are far more important to the bottom line than making new strides into new products. Many of these facets of the business are improved via consolidation, so whenever there is ample access to capital, industrials operating in markets like Dana will take advantage to inorganically grow the business. Over the past two years, Dana has made several tuck-in acquisitions in recent years: Warren Manufacturing ($104mm), Brevini (initial 80%, now in totality, for ~$525mm), SIFCO ($70mm), and Magnum ($18mm). These deals, on the net, were small fry compared to the company's recent offer for GKN Driveline.
GKN Driveline
If the stars align, the acquisition of GKN Driveline is a major deal that will send ripples throughout the automotive supplier space. Based out of the United Kingdom, GKN Driveline is a market leader internationally in many markets that Dana does not compete in currently – a fact that should help the company clear any potential regulatory hurdles. Dana's focus has always been on larger wheelbase passenger vehicles (SUVs, trucks) and in heavier duty vehicles (commercial agriculture and mining, tractor trailers). By comparison, GKN Driveline sees the overwhelming majority of its sales (90%) used in car and crossover builds. While not immediately clear, this also points towards expertise. Dana has little in the way of front wheel drive products, instead mainly focusing on rear or all-wheel drive. By comparison, internationally very few light vehicles are not front wheel drive, so substantially all of GKN Driveline's assets serve a different structure. Certain product components, such as driveshafts that connect the transmission to the rear wheels, are not within the GKN Driveline core competency.
In my view, there are two primary reasons why Dana is interested in GKN Driveline: electronic vehicles and China. GKN Driveline has a substantial presence in electric driveline systems via hybrid transmissions and eAxles. While I hate to parrot industry terms, growing content per vehicle is a very real catalyst for automotive suppliers. In GKN Driveline's legacy front wheel drive systems, its product applications are pretty light: axles, fluid systems, boots. As a result, revenue and earnings per vehicle sold are low. By comparison, electric vehicles tend to be all wheel drive – the instant torque of electric motors and front wheel drive don't play well together – so the end result is higher average sales per vehicle within battery electric vehicles ("BEVs") or hybrid battery electrics ("HBEVs"). Leveraging this fact, both in term of real earnings and in how the company presents the outlook to the market, should help drive multiple expansion.
Another driver, GKN Driveline has a massive joint venture ("JV") in China with HUAYU Automotive called Shanghai GKN Driveshaft ("SDS"). This JV has been in operation since 1988, making GKN one of the first tier one automotive suppliers to set up shop there. Through management skill or dumb luck, this JV was formed well before China became a major player on the international stage today. That first mover advantage has paid dividends given the long-lasting relationships with in-country manufacturers: over $1,300mm in sales flow through that entity. The market has underappreciated the value of these Chinese assets in the past, and I suspect it is likely still discounting them too heavily as a strong factor for why Dana pursued this deal in the first place.
Deal Structure
Within the current offer, Dana will issue 133mm shares of stock ($3,500mm valuation), which will give GKN Driveline shareholders a 47.25% stake in the combined entity. Those shareholders will also receive a $1,740mm cash payout (up from $1,600mm originally), alongside the assumption of $1,000mm of pension liabilities. In total, this values GKN at 8.3x 2017 adjusted EBITDA, a figure which falls to 5.7x inclusive of cost synergies and tax efficiencies. Given the large stock component of the consideration, leverage will remain manageable: 3.1x including the combined pension liabilities of both firms. Sweetening the deal to assuage UK concerns, Dana will domicile in the United Kingdom and implement a $200mm share buyback to improve market liquidity for UK investors forced to exit the firm (the company is heavily owned by institutional investors with targeted investment directives).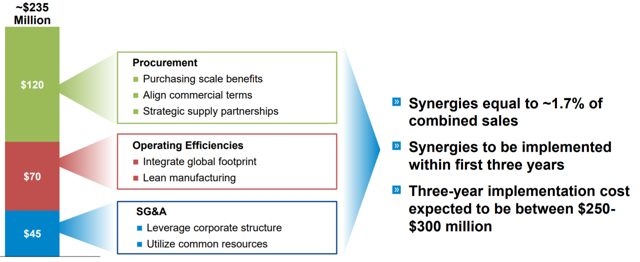 *Dana Incorporated, March 2018 GKN Driveline Deal Pitch
Synergies drive the value of this deal. Short-term costs are moderate given the annual savings, so payback will be quick if the company can hit its targets. CEO James Kamsickas has been on the acquisition hunt since taking the helm in August of 2015 with solid results on integration so far. Digesting a deal of this size will be a major undertaking.
By 2020, the combined entity has the potential of generating in excess of $2,000mm in EBITDA. Assuming no deal changes in terms, the enterprise value is about $12,000mm today; a figure that includes the assumed pension liabilities. 6x pension-adjusted EBITDA is historically about fair for Dana, but the firm has seen significant multiple expansion since the doldrums of the 2010-2015 period. Free cash flow would be quite high in that instance so long as the automotive market remains firm. Provided management hits its targets and can close this deal, there is ample room for share price expansion.
Note: Members of Industrial Insights community receive access to actionable research ideas like this one frequently. Value Investor's Edge is our sister service that shares in top tier financial content. Consider joining two of Seeking Alpha's most premier services to receive valuable investment analysis that is not publicly available.
Disclosure: I/we have no positions in any stocks mentioned, and no plans to initiate any positions within the next 72 hours.
I wrote this article myself, and it expresses my own opinions. I am not receiving compensation for it (other than from Seeking Alpha). I have no business relationship with any company whose stock is mentioned in this article.
Editor's Note: This article discusses one or more securities that do not trade on a major U.S. exchange. Please be aware of the risks associated with these stocks.
Source link